Computation of 3D simulations of cool stars with CO5BOLD (Freytag et al. 2012, Journal of Computational Physics, 231) for star-in-a-box model (global model) and with Stagger-code (Nordlund, Stein et Asplund, Living Reviews in Solar Physics 2009, vol. 6, no. 2) for box-in-a-star (local model).

New generation of Red Supergiant simualtions to unveil the mass-loss mechanism

High numerical resolution / non-grey / grid of new stellar paramters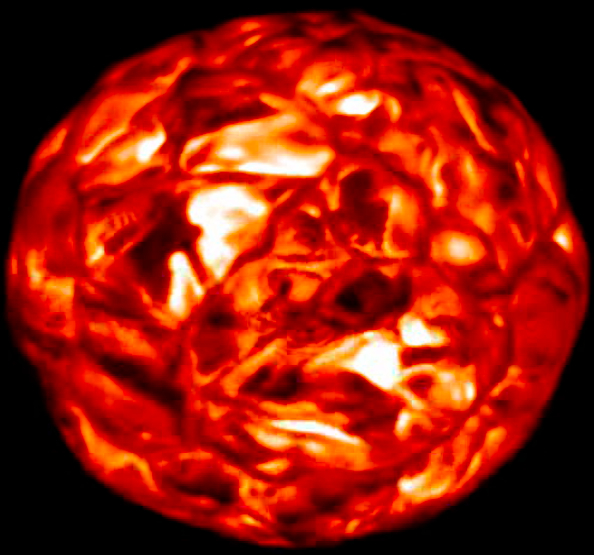 Click on the image to see a movie of the bolometric emerging intensity of the highest resolution simulation. Chiavassa, Freytag, Masseron & Plez 2011, A&A (ADS link)

Voyage over the surface of a supergiant. Click on the images to start the videos !!!!!!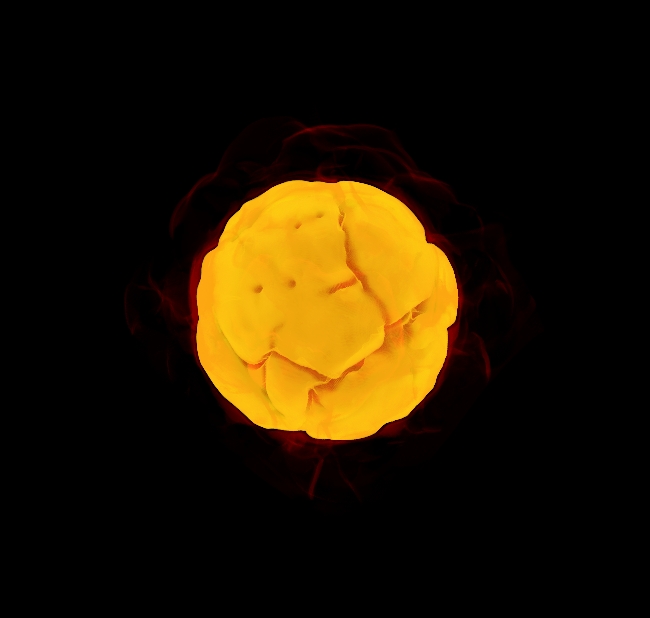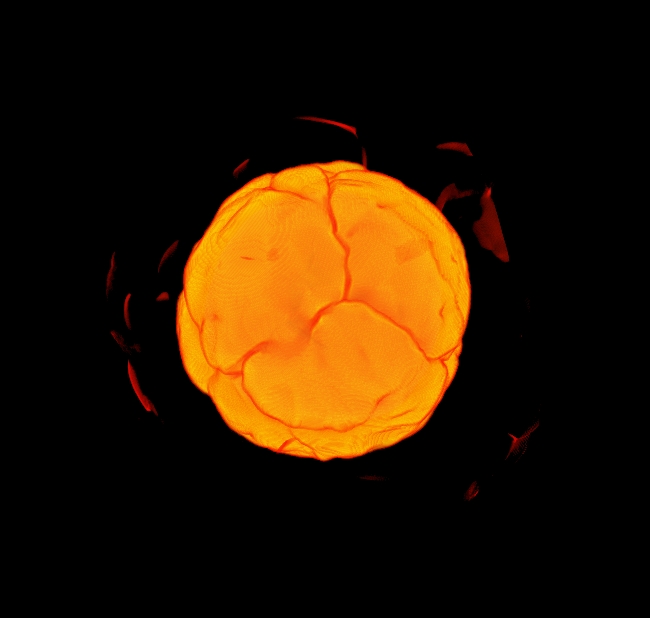 ---
3D Radiative Transfer code OPTIM3D (Chiavassa et al. 2009, A&A, ADS link) using three dimensional simulations in the star-in-a-box configuration (CO5BOLD) as input:

1) spectral synthesis --> to constrain the atmospheric dynamics, photometry, stellar parameters, abundances
2) intensity maps --> to constrain the granulation structure size, the limb darkening, the characterization of the hosted planets
| | |
| --- | --- |
| | |
| Click on the image to see the convetion in the Hband. The Images have been computed with OPTIM3D for the IONIC - filter mountend at IOTA telescope | Click on the image to see the convetion in the Kband. The Images have been computed with OPTIM3D for the K222-continuum FLUOR filter wavelength 2.2 micron |
| | |
| --- | --- |
| | |
| Click on the image to see the convetion in TiO band at 6100-6600 A. The Images have been computed with OPTIM3D | Click on the image to see the convetion in CaI-H line. The Images have been computed with OPTIM3D |
| | |
| --- | --- |
| | |
| Click on the image to see the convetion with an instrumental convolution to the PSF of a 42 meters telescope in the optical region (GAIA G-band). These images can be qualitatively compared to the observations (image reconstruction). Done with OPTIM3D The simulation scaled to a distance of about 174.3 pc and an apparent diameter of 44.5 mas | Click on the image to see the convetion with an instrumental convolution to the PSF of a 42 meters telescope in the H band (IONIC filter). These images can be qualitatively compared to the observations (image reconstruction). Done with OPTIM3D The simulation scaled to a distance of about 174.3 pc and an apparent diameter of 44.5 mas |
| | |
| --- | --- |
| | |
| Click on the image to see the convetion at different wavelengths. Importance of the high spectral resolution in interferometry (H band) -> different features with respect to wavelength (computed with OPTIM3D) | Click on the image to see the velocity field in the red supergiants'atmospheres at 1.6 micron (computed with OPTIM3D) |
Creating observables (visibility, closure phases, image reconstruction as a function of wavelengths and filters) to compare with interferometric observations at different wavelengths (VLTI-Amber/Midi/MATISSE/PIONIER, CHARA, IOTA,...).

Data redution with VLTI-AMBER

Measurement and characterization of the convective pattern (granule size, surface contrast, timescales) of red supergiant stars, K giants, sub-giants and solar type stars.

Image reconstruction

Determination of the 1D - 3D models corrections on abundances, stellar parameters and velocity field at high resolution (top). Large spectral range computation for flux distributions, colors filters (red curves) and comparison to the observations (bottom)
Back to the top
---


3D Radiative Transfer code OPTIM3D (Chiavassa et al. 2009, A&A, ADS link) using three dimensional simulations in the box-in-a-star configuration (Stagger-code, Nordlund, Stein et Asplund, Living Reviews in Solar Physics 2009, vol. 6, no. 2) as input:
| | |
| --- | --- |
| | |
| Intensity maps computed at disk center and µ = 0.8, 0.6, 0.4 for a metal-poor K Giant simulation and integrated over the range 3500-9800 ˚A. The panels have individual scaling. | Determinations on the interferometric observables, limb darkening, characterization of the granulation pattern, and impact on hosted planet detection (Chiavassa et al. 2010, A&A, ADS link ) |
| | |
| --- | --- |
| | |
| Determination of the 1D - 3D models corrections. Large spectral range computation for flux distributions, colors filters (red curves) and comparison to the observations for all the cool stellar types (Evolved giants, K-Dwarf, Sun, Main sequence stars) and with different metallicity | Determinations on the interferometric observables, limb darkening, characterization of the granulation pattern, and impact on hosted planet detection for main sequence stars (Chiavassa et al. 2012, A&A, link ; Chiavassa et al. 2014, A&A, link ) |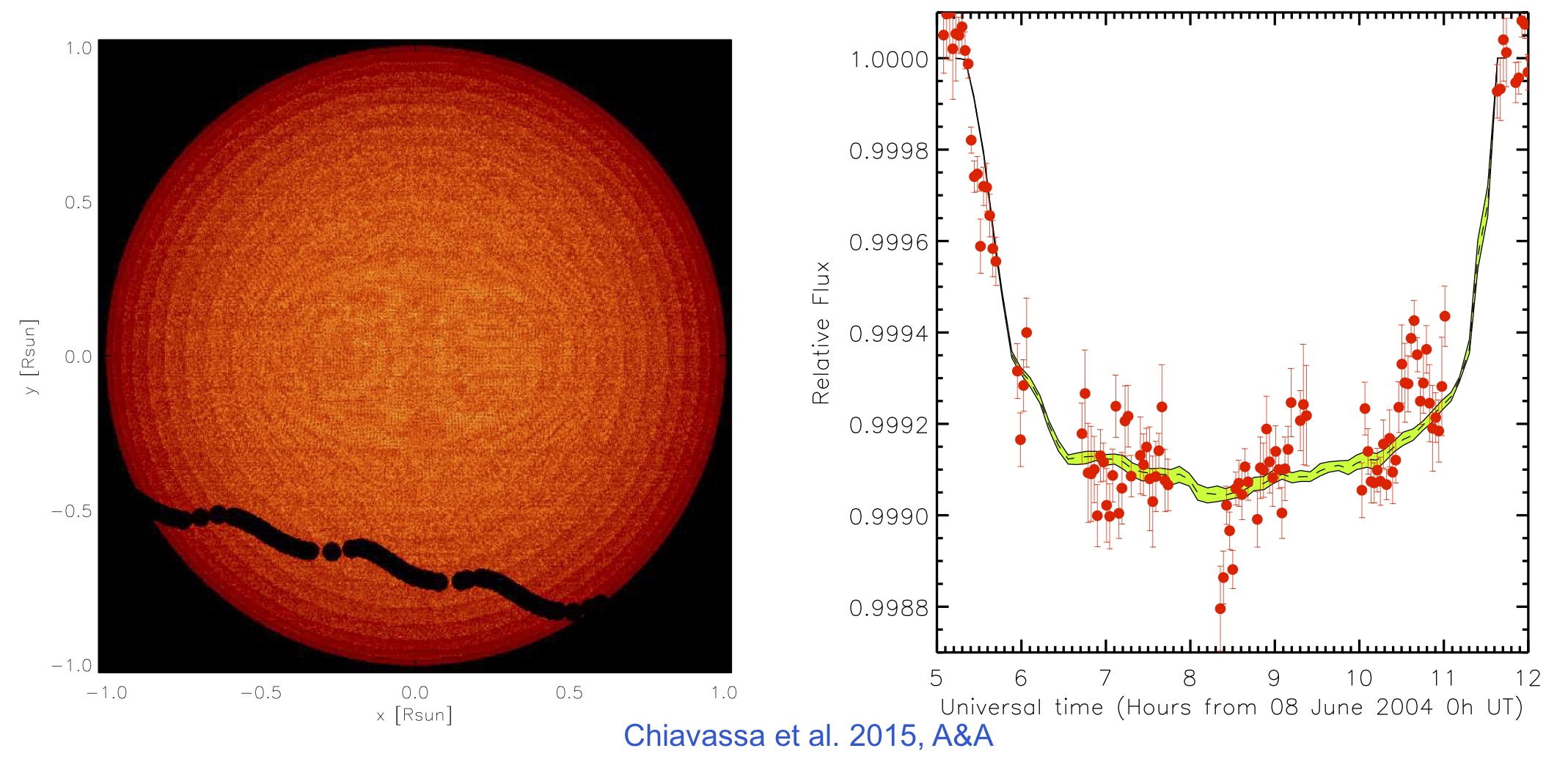 Determnation of the impact of granulation in planetary transit detection and characterisation (Chiavassa et al. 2015, A&A, link )
Back to the top
---

Visualisaztion




Visualizaiton of 3D data with VAPOR(Visualization and Analysis Platform for Ocean, Atmosphere, and Solar Researchers). Volume rendering of Temperature, Mach number, ratio of turbulent pressure/gaz pressure (movie done for one snapshot of a simulation)
Back to the top